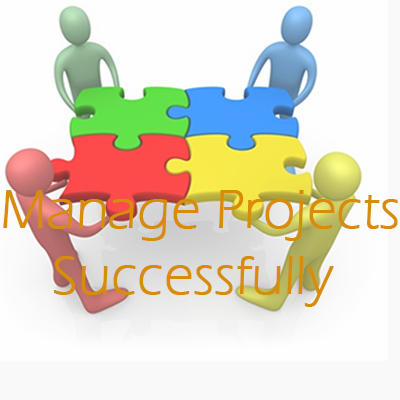 If you have been asked to run a project and are not sure how to approach this task, I hope the simple steps and basis tools I have provided below will make it easier for you.  These are taken from a UWE Bristol course I have just completed called 'How to manage projects successfully'.
Step 1 – Project Brief
If you are asked to run a project you must confirm exactly what is expected of you – an understanding of your requirements.  This can simply be an email or you can write a project brief if more detail is required.  Basically you can't plan until you know exactly what it is you are expected to deliver.
A project must be defined in terms of cost, timescales and quality.
If this project has happened before make sure you obtain feedback, what worked well, what didn't, lessons learnt etc.
A project brief should include the following:
Description of project and why you are doing it

What it is trying to achieve (aims and objectives)

Risks – what could go wrong, what if it doesn't happen?

Estimated costs

Estimated timescales and completion date

What does success look like
Once this has been agreed the planning can start
 Useful tools
 Step 2 – Project Initiation: Set up
You will need a project plan. Define your project with clear aims, objectives, timescales, quality and budgets.
This is when the project team is put together and you decide precisely what work has to be done, by whom and when.  This is your initial plan and once agreed the project can be implemented and the work done.
Agree who you need to report to and who are your team members (if you have any). Decide how you will manage the project with your team, identify their roles and the amount of time they have available.
Decide when you need to review the project and who you need to update and how often in order to review progress and to keep the project on track.
Produce a project initiation document. This should include the following:
Background, description and purpose of project + specific business benefits. (This project should meet your business needs.)

Set goals and objectives – Agree what you are trying to achieve. Ensure these can be measured and controlled

Identify what work has to be done, by whom and when

Include achievable and realistic timescales

Produce a budget and identify all your costs and resources. Include a contingency amount for unexpected costs (normally 10%)
Useful tools
Project initiation document

Activity schedule

Stakeholders plan – stakeholders are those people who have an interest or who are involved in the project. Important to identify them so that you know who to communicate with

Communications plan – include all your stakeholders

Risk assessment chart + risk register (this is simply a list of risks, what could go wrong etc. Constantly refer to and update)

Budget with contingency
Here's an example of a risk assessment chart
Rank likelihood of risk and impact on a scale of 1 – 5 (5 being high)
| | | | |
| --- | --- | --- | --- |
| Description | Likelihood of risk | Impact of risk | Action to be taken |
| Misunderstanding of project brief | 3 | 5 | Obtain clarify.  Do not proceed until you are clear of what's required |
| Not identifying all the activities to be undertaken | 2 | 4 | Double check with everyone first |
| Running out of time to complete project | 4 | 5 | Review and access on a regular basis |
| IT equipment doesn't work for presentation | 3 | 3 | Ensure you have a back up or plan B in place |
 Step 3 – Implementation: Managing the Project
This is the stage when all the above has been agreed and you are now managing the project on a day to day basis.
People have different ways of managing the work involved but checklists are essential.  You must remember to review and update your key documents on a regular basis including activity schedules, budgets, communication plans and risk assessments.  Are you meeting your objectives?
You must also communicate with your team and stakeholders on a regular basis in order monitor workloads, assess and review and update them on progress. For a project to work well everyone must be involved and committed.
Finally the project must be kept on track. Keep on top of timescales and decide what action needs to be taken if these start to slip.  Do you need to modify your plans?
 Useful tools
Project plan and checklists

Activity schedule (Excel spreadsheets. For larger projects possibly look at Microsoft Project or Gant charts)

Budgets, communications plan, risk assessment as above
Step 4 – End of Project/ Project Handover
You need a planned hand over in place so that the people running the project are supported and know what work is involved.  You may need to produce admin procedures, operation manuals or to do lists.  Long term maintenance and IT support may also need to be set up and provided.
Finally you will need a hand over meeting and debrief.  Time to review and evaluate – Has the project achieved everything?  Have you delivered what was expected of you? Lessons learnt – would you do anything differently next time?
Useful tools
 Key things to remember
Agree a realistic timeframe to deliver the project.  Take into account peoples availability and allow for holidays, sickness etc
Keeping on track – monitor on a regular basis.  Keep checklists and remember to update your activity schedules, budgets, communications plan, risk assessment etc.
Set regular review dates in order to keep everyone updated with process and to review how the project is progressing and that the objectives are being met.
Good luck with your project.  Apply lots of common sense and organisational skills and you are well on your way to success.
Elaine Brown is an award winning entrepreneurial project manager and former MD of Bristol based In Any Event UK.  She now works as a project manager for UWE Bristol as well as managing projects on behalf of Bath on Ice and the NHS.
In 2016 she will also be delivering a major conference about Bristol and Bath's Bright Futures in partnership with Business West and Invest in Bristol and Bath.
If you need any further help or advice with you project please email Elaine@ebprojects.co.uk